Jaipur Travel Diary: "Reflections on a Trip to Savista"
I went to Savista wanting to time out at a retreat after a busy work year, and came away with so much more.  A short business trip to Jaipur created the opportunity.  Having been to India 3 times previously on short business trips to Hyderabad, and having visited the Taj and Delhi I wanted a different experience.   I found Savista on line and after reading others' experiences on Trip Advisor I knew this was just the place and booked a weekend stay. My experience of Savista was magical and reminded me again that some things are just meant to be.
Following a long trip from South Africa and a demanding workshop with senior leaders of a multinational organisation, I arrived at Savista early on a Saturday morning exhausted.  I was delighted to have escaped the city and found a part of India that was rustic, rural, and beautiful.    I was welcomed into the grand Savista by Bhanwar and then met Radhika and I knew instantly that my experience, whatever it would be, would be very special.
Radhika tailored the detox package to suit me personally after a thorough exploration of what had brought me to Savista at this point in my life and what exactly was it that I was hoping to get out of the experience.  I appreciated the holistic partnership approach she adopted.  I felt genuinely cared for and and we agreed on a plan after discussing the options that sounded perfect; especially since I wanted to take home with me practices that I would integrate into my busy life as a mother and professional.
As I settled into Savista, I appreciated the whole team of individuals that contributes to making this a wonderful experience.  I started to feel like part of the family, and felt so enriched by the conversations and discussions with Bhanwar and Radhika over dinner.  The detox package slower morphed into a cultural experience as I explored the surrounds and the history and the community.
The things that stood out for me were:
The yoga daily in all its forms – from laughing through to the breathing practices.
The library of fascinating books that I read on the roof top each afternoon – my favourite Rilke's Letters to a young Poet.
The delicious vegetarian meals
Walks in and around the property – the Kijri trees reminding me of the acacia back home – and the sunset over the land reminding me of my beloved African bush veldt.
The birds…
The camel ride through the village meeting people on the way; drinking chai; stopping on the side of the road as the camel driver roasted the gift of peanuts
Visiting the printing works at Bagru
Getting stuck in an almighty traffic jam as the locals blocked the road to unload their produce…
The Indian gentle oil massage – so un-western – all about touch, care and gentility. I found out afterwards that it is a traditional massage mostly offered to babies and the elderly – and wondered what might be different if we tended to each other with this kind of care and nurturing through all our stages of life as an antidote to the harshness of our world that values toughness and disdains vulnerability and gentility.
The caring and attentive staff
The conversations and connection with Bhanwar and Radhika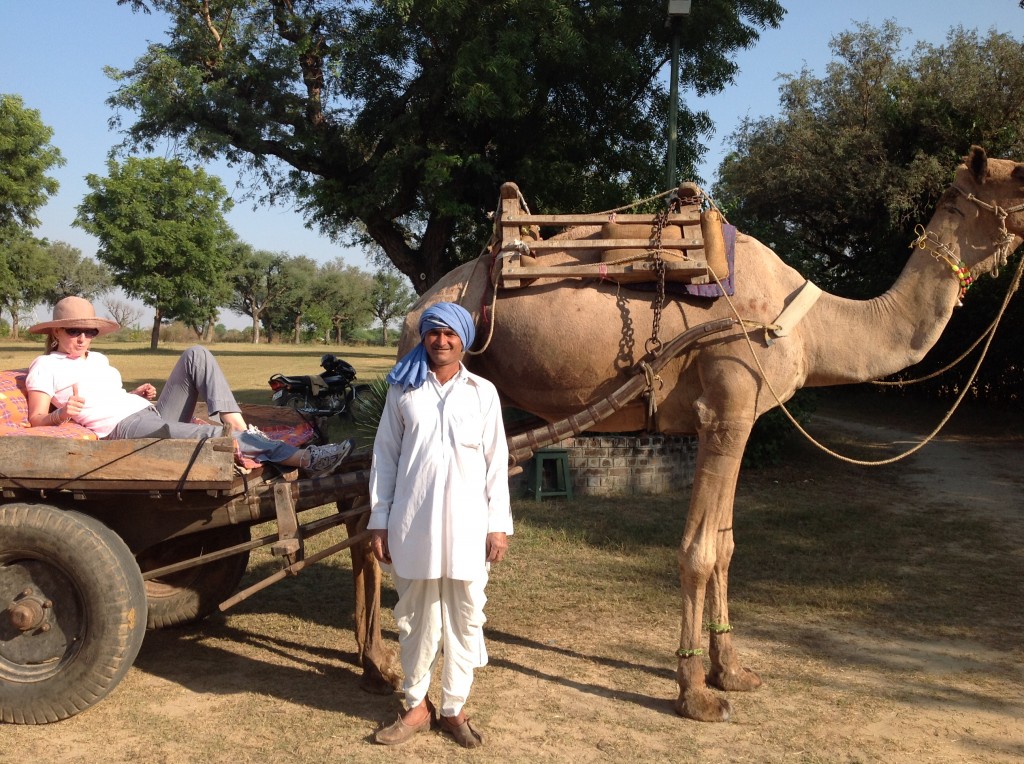 I was so pleased I resisted the temptation to rush into Jaipur and shop and visit the historical sites.
My final night was hard to pull myself away from the place, so much so I nearly missed my plane home.
Not a day goes by when I am not thankful for finding a place so far from home that so quickly felt like home; for meeting people that have become cherished friends overnight – such a rarity in today's fast paced world.  Every time I am on a yoga mat, and this is more than twice a week, I think of Bhanwar and Radhika and Savista and what it has meant to me.
I have been curious about what is it that has left this indelible mark on me and changed my relationship with myself and with my life.  Some of the answers I have come up with are that Savista is truly about community, connection, and people and about heart and soul. Savista is not about show, pretence and grand elegance – it stands against the superficial for the real and herein is its power.   It is simply a place run by wonderful people who truly offer what they have with love, generosity and joy and in so doing offered a space for me to connect with the best parts of myself and what it means to be human.
Veronica Royston
_______________________________________
Savista has had guests who are trained psychologists and professional coaches, who arrive here for a breather between busy schedules while in India. Given their focus of working with high performing senior-level professionals to further enhance the potential and capabilities of their clients within an overall framework of personal wellbeing and self-fulfilment, it is not surprising that an off-the-beaten-track place like Savista seems like a good place to come to –  to relax, get some alone time and, if possible, also do a spot of sightseeing.
To have such a professional come to Savista for her own physical and mental recharge and renewal, came as both an endorsement and a challenge for us.  What was it that we would be able to do for her, that she could not already do for herself?
Veronica turned out to be a dream guest for our detox and yoga programme. Her motivation to learn and absorb, her sensitivity and openness to everything that she encountered here, her honesty and objectivity when analysing her own abilities, vulnerabilities and personal challenges, all spoke of what a fabulous coach she must be, and why she is in such great demand internationally. Out of our equal, collaborative, and mutually rewarding interaction was born a deep friendship that has sustained since.
Veronica's reflections on Savista are truly generous. What we would like to say is that for us, too, the connection that we made was one of those rare encounters that, when it happens, feels like it was meant to be.
Veronica is a highly trained and registered organisational psychologist who works internationally.  She is  based in Cape Town, South Africa.  Her thesis for her Master's degree – won with distinction – was on the topic of executive stress. She is also an International Coach Federation PCC credentialed coach and an New Ventures West Professional Certified Integral coach. A person of remarkable empathy (which we were able to witness during her brief time at Savista), she brings to her coaching skills the lessons learnt from a diverse career across continents and cultures, and from tough choices made as a businesswoman and mother "without always knowing how things will work out", as she puts it.
She can be contacted at:
Veronica Royston, Leadership Coach and Business Psychologist,
veronica@veronicaroyston.com
Cell: +27 (0) 83 202 0111
Skype: veronicaroyston
www.roystoncoaching.com